Archives by date
You are browsing the site archives by date.

By Janey Lew on October 30, 2017
A warm welcome to new staff joining Indigenous Initiatives this fall!

By Erin Yun on October 30, 2017
On October 12, 2017, Jude Walker, assistant professor of Adult Learning and Education, and Shayna Hornstein, a body-focused psychotherapist, registered physical therapist, and recent graduate in Adult Learning and Education, facilitated a Classroom Climate workshop on "Confronting Uncomfortable Conversations in the Classroom: The Pedagogy of Emotion."
By Janey Lew on October 30, 2017
The Peter Allard School of Law's Indigenous Studies Legal Program recently began offering a Cultural Competency certificate. We had the good fortune of connecting with JD Candidate Brendan Easton, who has been working with the law school to introduce this program.

By Emi Sasagawa on September 27, 2017
The Aboriginal Un-History Month exhibition brought together Indigenous work, resources and collaborations from across campus.

By Hanae Tsukada on September 12, 2017
Since we launched the project to include Musqueam history as a prominent aspect of the online resource Time and Place at UBC last summer, we were blessed by the opportunities to work with two UBC students of Musqueam descent – Sara Louie and Mathew Andreatta.

By Julia Burnham on July 28, 2017
The Centre for Excellence in Indigenous Health (CEIH) has partnered with UBC Health to bring forth a new interdisciplinary learning experience on Indigenous Cultural Safety.

By Wendy Chan on July 28, 2017
From June 22 to 24, UBC co-hosted the Native American and Indigenous Studies Association (NAISA) 9th annual conference.

By Emi Sasagawa on June 1, 2017
On May 2 the Centre for Teaching, Learning and Technology held a panel discussion on integrating Indigenous content and perspectives in the classroom. The event brought together five settler scholars from departments across the university to share their experiences and to discuss, "When will we be ready?"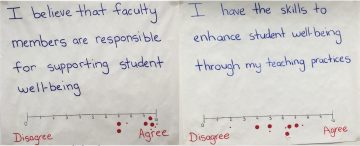 By Diana Jung and Janey Lew on May 3, 2017
On February 8, 2017 Patty Hambler, Director of Student Wellbeing Promotions and Michael Lee, Senior Instructor in the Department of Occupational Science and Occupational Therapy co-faciliated a Classroom Climate workshop titled "Supporting the Student as a Whole Person: Exploring Connections Between Instructional Practices, Learning, and Wellbeing."