Archives by date
You are browsing the site archives by date.

By Hanae Tsukada on September 12, 2017
Since we launched the project to include Musqueam history as a prominent aspect of the online resource Time and Place at UBC last summer, we were blessed by the opportunities to work with two UBC students of Musqueam descent – Sara Louie and Mathew Andreatta.

By Julia Burnham on July 28, 2017
The Centre for Excellence in Indigenous Health (CEIH) has partnered with UBC Health to bring forth a new interdisciplinary learning experience on Indigenous Cultural Safety.

By Wendy Chan on July 28, 2017
From June 22 to 24, UBC co-hosted the Native American and Indigenous Studies Association (NAISA) 9th annual conference.

By Emi Sasagawa on June 1, 2017
On May 2 the Centre for Teaching, Learning and Technology held a panel discussion on integrating Indigenous content and perspectives in the classroom. The event brought together five settler scholars from departments across the university to share their experiences and to discuss, "When will we be ready?"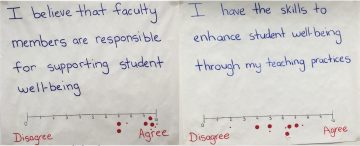 By Diana Jung and Janey Lew on May 3, 2017
On February 8, 2017 Patty Hambler, Director of Student Wellbeing Promotions and Michael Lee, Senior Instructor in the Department of Occupational Science and Occupational Therapy co-faciliated a Classroom Climate workshop titled "Supporting the Student as a Whole Person: Exploring Connections Between Instructional Practices, Learning, and Wellbeing."


By Amy Perreault and Janey Lew on March 2, 2017
UBC Forestry Student HyunGu Kang answers some questions about the 10,000 Cranes Initiative and what motivates her learning about Indigenous and non-Indigenous relations and reconciliation.

By Victoria Cooke on March 2, 2017
This is a guest blog post by FNIS Practicum Student, Victoria Cooke, who is currently recruiting survey participants for her research project until March 5th. Please read more, share information about the surveys, and take the survey to show your support for Victoria's research.