By UBC Learning Circle and CTLT Indigenous Initiatives on December 14, 2018
Over the past two years we have valued the strategic partnership with the UBC Learning Circle. Through this partnership, we have had the privilege of participating in and contributing to communities connected to the UBC Centre for Excellence in Indigenous Health through the webcasts of our Classroom Climate series.

By Wendy Chan on March 14, 2018
Dr. Katja Thieme and Dr. Mary Ann S. Saunders explored ways to create a more inclusive campus for students of all genders and sexual orientations.

By Wendy Chan on February 26, 2018
Dr. Aftab Erfan, Director of Dialogue and Conflict Engagement at the UBC Equity and Inclusion Office, facilitated a workshop to explore conflict and how to engage with controversial classroom topics.

By Erin Yun and Amy Perreault on February 21, 2018
On September 27, 2017, members of the Centre for Teaching, Learning and Technology (CTLT) Indigenous Initiatives team were pleased to witness the naming ceremony of c̓əsnaʔəm House at Totem Park Residence. 
By Erin Yun on October 30, 2017
On October 12, 2017, Jude Walker, assistant professor of Adult Learning and Education, and Shayna Hornstein, a body-focused psychotherapist, registered physical therapist, and recent graduate in Adult Learning and Education, facilitated a Classroom Climate workshop on "Confronting Uncomfortable Conversations in the Classroom: The Pedagogy of Emotion."

By Emi Sasagawa on June 1, 2017
On May 2 the Centre for Teaching, Learning and Technology held a panel discussion on integrating Indigenous content and perspectives in the classroom. The event brought together five settler scholars from departments across the university to share their experiences and to discuss, "When will we be ready?"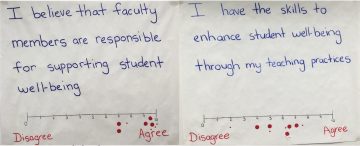 By Diana Jung and Janey Lew on May 3, 2017
On February 8, 2017 Patty Hambler, Director of Student Wellbeing Promotions and Michael Lee, Senior Instructor in the Department of Occupational Science and Occupational Therapy co-faciliated a Classroom Climate workshop titled "Supporting the Student as a Whole Person: Exploring Connections Between Instructional Practices, Learning, and Wellbeing."

By Amy Perreault and Janey Lew on November 7, 2016
During the session on "Bridging the Knowledge Gap: Indigenous Foundations," Kathryn and David outlined their approaches to engaging students in conversations about Indigenous topics in the various courses they've taught here at UBC.

By Janey Lew on October 21, 2016
We've rescheduled one of our sessions, "Addressing Campus Climate in Your Classroom" for November 3, 10AM-12PM, and hope this change in time will encourage more of you to register and attend this important workshop!

By Janey Lew on October 7, 2016
It was a treat to have a full house for a demonstration of the c̓əsnaʔəm educator's toolkit by members of the Musqueam Language and Culture Department: elder Larry Grant, Jill Campbell, and Vanessa Campbell.