Amy Perreault
Senior Strategist, Indigenous Initiatives
604 827 4398
amy.perreault@ubc.ca
Amy is the Senior Strategist, Indigenous Initiatives at the Centre for Teaching, Learning and Technology (CTLT) at the University of British Columbia on the traditional and unceded territory of the Musqueam people. Amy  is proudly Red River Métis, with mixed European ancestry. She was born in Thompson Manitoba but spent most of her childhood fishing, picking huckleberries, hiking and being on the land and water ways in the East and West Kootenay's on the traditional territories and homelands of the Ktunaxa Nation. She holds an MLIS from the UBC School of Information, where she currently serves as adjunct faculty and oversees the First Nations Curriculum Concentration.  Amy works with staff, faculty groups, training programs for teaching assistants, new faculty, and administrators, to support the development of a higher standard of professionalism in conducting discussions of Indigenous and other contentious social issues in curricular settings. Amy is a co-developer and researcher for the educational resource What I Learned in Class Today: Aboriginal Issues in the Classroom and manages the development of Indigenous Foundations. Work on these projects, as well as her own experience as an Indigenous student, staff and faculty member at UBC, clearly identify the complexities and challenges of classroom conversations involving contentious cross-cultural discussions, and in specific discourse around Indigenous curriculum.
---
Janey Lew, PhD
Senior Educational Consultant, Indigenous Initiatives
604 827 4398
janey.lew@ubc.ca
Janey joined CTLT's Indigenous Initiatives team in August 2015 and is grateful to work and learn at UBC on the unceded, ancestral territories of the xʷməθkʷəy̓əm (Musqueam) people. Janey was born and raised on the unceded territories of the xʷməθkʷəy̓əm, Sḵwx̱wú7mesh (Squamish), and Sel̓íl̓witulh (Tsleil-Waututh) Nations, in what is now known as East Vancouver. She is a second-generation Chinese-Canadian whose family migrated to and settled on Turtle Island from the Four Counties (Sze Yup) region of southern China's Guangdong Province. As Senior Educational Consultant, Janey's role focuses on faculty engagement and professional development, strategic curricular support, and providing guidance and leadership to the Indigenous Initiatives team for its core programs, services, and educational resources including the Indigenous Initiatives Design Series and the in/relation project. Janey is an experienced facilitator and mentor in a variety of community and educational settings, and holds a PhD in Comparative Ethnic Studies from the University of California, Berkeley. Prior to joining CTLT, Janey was a post-secondary instructor for ten years and taught in the Asian American Studies Program at UC Berkeley, the English departments at Capilano University and Douglas College, and the First Nations Studies Programs at SFU and UBC. 
---
Erin Yun
Educational Consultant, Classroom and Campus Climate
604 822 5153
erin.yun@ubc.ca
Erin started at CTLT since being a graduate student in 2013 and is thankful to work and learn on the unceded and traditional territory of the Musqueam people. Erin supports and leads UBC teaching and learning community's professional and capacity development in helping to createa classroom climate that is supportive to teaching and learning. She provides consultation, process design, facilitation, programming, and resource development services to faculty, staff, and graduate students, focused on difficult conversations related to classroom and campus climate, and Indigenous engagement within teaching and learning.
---
Hannah Coderre 
Educational Consultant, Curriculum and Student Development
hannah.coderre@ubc.ca
Hannah joined CTLT's Indigenous Initiatives team in December 2020 as an Educational Consultant, Curriculum and Student Development. Hannah is proudly Métis, a citizen of the Métis Nation of Alberta, and of mixed European ancestry. She is from Treaty 8 territory, born in Grande Prairie, Alberta and is now grateful to be here on the traditional and unceded territory of the Musqueam people. Hannah works alongside our team and partner units to ensure that CTLT programming, resources, and support services centre Indigenous student experiences. She recently completed the Master of Education (SCPE) program at UBC, where she held the student position of SAGE Coordinator/Indigenous Graduate Student Mentor. Prior to UBC, she worked in the Calgary non-profit sector, supporting the capacity building of local organizations and was a coordinator of a community GED program.
---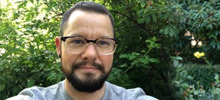 Kyle Shaughnessy
Educational Consultant, Staff Training
kyle.shaughnessy@ubc.ca
Kyle holds a joint position between HR Workplace Learning & Engagement and CTLT Indigenous Initiatives as Education Consultant: Staff Training, at the University of British Columbia, situated on the traditional and unceded territory of the xʷməθkʷəy̓əm (Musqueam) people. Kyle is a Two-Spirit, trans person of mixed Indigenous (Dene) and European (Irish & Ukrainian) ancestry, and is a social worker and writer originally from the Northwest Territories and rural BC. He holds an MSW from Dalhousie University and his professional background includes health education, institutional & systems change, Indigenous community engagement & cultural safety consultation, LGBT2Q+ advocacy, and Two-Spirit teaching & learning practices. Kyle's role as Education Consultant: Staff Training is to provide consultation and support for staff (including teams and leadership) seeking to foster greater integration of Indigenous knowledges and perspectives in university programming and engagement strategies.
---
Samantha Nock
Educational Resources Developer
Samantha joined CTLT Indigenous Initiatives in December 2021 as the Educational Resources Developer. Sam is nehiyaw-apihtaw'kos'an (Cree-Metis) and grew up in Treaty 8 territory in Northeast British Columbia, on the traditional territories of the Dane-zaa, Cree, and Saulteaux peoples and the traditional homelands of the Métis. Her family is originally from Ile-a-la-Crosse (Sakitawak) in Northwest Saskatchewan, Treaty 10 territory, the traditional territory of the Cree and Dene peoples and the traditional homeland of the Métis. Sam has lived on the unceded lands of the xʷməθkʷəy̓əm, Sḵwx̱wú7mesh, and Sel̓íl̓witulh Nations for the last 12 years, and is grateful to be here. Sam is an alumna of the First Nations and Indigenous students at UBC, graduating with her BA in FNIS and Political Science in 2014. Post UBC, she completed a web development diploma at Lighthouse Labs. This is where Sam became interested in conversations about Indigenous online sovereignty, data sovereignty, and the intersections of traditional knowledge and the online realm. Sam has worked as an arts educator, an information management officer, a communications consultant, and ensures that in each position she holds her communities are always held at the centre. As the Indigenous Initiatives Educational Resources Developer, Samantha supports the II team and the UBC Learning Community in creating engaging online resources, such as What I Learned in Class Today. She also supports in sharing these resources via Indigenous Initiatives communications platforms, like II's monthly newsletter.
---
Carissa Block
Educational Programs Coordinator
Carissa joined CTLT's Indigenous Initiatives team in January 2022 as an Educational Programs Coordinator. She began studying on the traditional, ancestral and unceded territories of the xʷməθkʷəy̓əm (Musqueam) people in 2014 and graduated from UBC with a BA in International Relations and Political Science. Prior to joining the Indigenous Initiatives team at CTLT Carissa worked as an Event Coordinator in the unit. In her role as Educational Programs Coordinator, she will be supporting the planning, delivery, and evaluation of professional development programs. Specifically, she will be providing administrative support for the Indigenous Initiatives team's work with the Indigenous Strategic plan.  
---
Jessica Schaub
Graduate Student Facilitator, Classroom Climate Equity and Inclusion
Jessica joined the Indigenous Initiatives as a graduate student facilitator for the Classroom Climate Equity and Inclusion project in February 2022. She is Alberta Métis and French, and grew up on Treaty 6 territory in rural, northern Alberta. She has been a student at UBC since 2013 after completing a B.Sc. and M.Sc. and she recently began her PhD in oceanography at the Institute for the Oceans and Fisheries. Jessica is passionate about supporting Indigenous students, especially in STEM fields, and has been involved in many initiatives across UBCV campus, British Columbia, and the Canadian Arctic. As a contributor to the CCEI project, she will help develop curricula and training materials for Teaching Assistants across campus while building a team of TAs to deliver these training materials in the future.
---
Tarene Thomas
Graduate Student Facilitator, Classroom Climate Equity and Inclusion
Tarene Thomas is a Cree, Gitxsan, Tahltan, and Haisla Writer and Scholar from Maskêkosihk Cree Nation in Treaty 6 territory. Tarene holds a BA in English with a focus on Indigenous lit from the University of Alberta, has just completed her MFA in Creative Writing from UBC and will start the Master of Journalism program at UBC in the fall of 2022. Tarene's writing champions decolonial and Indigenous feminist themes whilst writing inside of a colonial language.
---
Daniel Gallardo
Graduate Student Facilitator, Classroom Climate Equity and Inclusion
Daniel Gallardo is a cuir mestizx from Mexhico who deeply appreciates living in the occupied and unceded territories of the xʷməθkʷəy̓əm, Səl̓ílwətaɬ, and Skwxwú7mesh Nations. They are Nahua del Centro andP'urhépecha on their father's side of the family and on their mother's side of the family, they are of settler ancestry, Andalusian-Berber and French. Daniel is a doctoral student with the Department of Educational Studies whose research involves the ideological leverage of settler-colonialism and its impacts on race, sexuality and gender in education. For the last 10 years, they have led action on social justice within education communities working as a teacher and curriculum developer. Since coming to UBC, Daniel is part of the Indigenous Education Office and a research assistant with SOGI UBC who coordinates the anti-racist sexual orientation and gender identity inclusive education professional development sequence.
---
Janelle Kasperski
Educational Consultant
Janelle Kasperski (pronouns: She/Her) is a Nisga'a woman from Laxgalts'ap, BC. She is an educator, beader, artist, facilitator, writer, and Auntie advocate for Indigenous voices and success. She has been with UBC for a year and a half, working as the Specialist in Strategic Indigenous Enrolment Initiatives.  She has also worked for McGill University in the Office of the Provost as the Indigenous Education Advisor.  Her experience in educational institutions is grounded in the knowledges witnessed through working with Indigenous communities, as well as her own cultural and family teachings.
---
Paulina Semenec, PhD 
Educational and Evaluation Consultant
Paulina joined the Indigenous Initiatives team in July 2022 as an Educational and Evaluation Consultant. In this role, Paulina provides leadership in the planning, implementation, analysis, and dissemination of evaluation across UBC teaching and learning initiatives, programs, and projects, with a key focus area in supporting the implementation and evaluation of the Indigenous Strategic Initiative Fund. Paulina is a first-generation immigrant/settler of European ancestry and is honoured to call Squamish – located on the traditional, ancestral and unceded territory of the xʷməθkʷəy̓əm (Musqueam), Squamish and Tsleil-Waututh Nations, her home. Paulina recently completed her PhD in Educational Studies (UBC), and brings with her several years of experience as a TA and instructor in the teacher education program at UBC as and as a sessional instructor at Vantage College.
---
Want to keep up to date with what's happening in Indigenous Initiatives? Join our monthly newsletter mailing list!