Archives by date
You are browsing the site archives by date.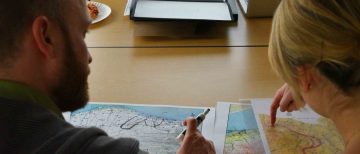 By Erin Yun on December 17, 2018
We recently had the opportunity to interview Lucas Wright on integrating Indigenous perspectives in his role as an Educational Consultant: Learning Technology, Teaching and Learning Professional Development.

By Erin Yun and Amy Perreault on December 14, 2018
What I Learned in Class Today: Aboriginal Issues in the Classroom began as a student project, led by Karrmen Crey and Amy Perreault in 2007.
By UBC Learning Circle and CTLT Indigenous Initiatives on December 14, 2018
Over the past two years we have valued the strategic partnership with the UBC Learning Circle. Through this partnership, we have had the privilege of participating in and contributing to communities connected to the UBC Centre for Excellence in Indigenous Health through the webcasts of our Classroom Climate series.

By Erin Yun on October 29, 2018
The Indigenous Initiatives Learning Community (or "II-Learning Community") is peer-driven professional development community intended for participants who have completed the II-Design Series.

By IN/Relation Team on October 25, 2018
IN/Relation: Educational Resources for International Students Learning Indigenous Contexts and Histories at UBC  is a TLEF-funded project to increase for Indigenous engagement for international learners, and develop intercultural understanding and respect.

By Janey Lew on August 29, 2018
On August 20, 2018, Indigenous Initiatives facilitated a workshop for the CTLT Summer Institute on the topic of Exploring Reconciliation in Teaching and Learning.

By Erin Yun on March 22, 2018
We recently interviewed Ashley Welsh, Faculty Liaison, for the Faculty of Science on her role as a liaison, engagement with first-year students through Jump Start UBC, and ways of integrating Indigenous content and perspectives into practice.

By Wendy Chan on March 14, 2018
Dr. Katja Thieme and Dr. Mary Ann S. Saunders explored ways to create a more inclusive campus for students of all genders and sexual orientations.

By Wendy Chan on February 26, 2018
Dr. Aftab Erfan, Director of Dialogue and Conflict Engagement at the UBC Equity and Inclusion Office, facilitated a workshop to explore conflict and how to engage with controversial classroom topics.

By Erin Yun and Amy Perreault on February 21, 2018
On September 27, 2017, members of the Centre for Teaching, Learning and Technology (CTLT) Indigenous Initiatives team were pleased to witness the naming ceremony of c̓əsnaʔəm House at Totem Park Residence.