By Erin Yun on October 30, 2017
On October 12, 2017, Jude Walker, assistant professor of Adult Learning and Education, and Shayna Hornstein, a body-focused psychotherapist, registered physical therapist, and recent graduate in Adult Learning and Education, facilitated a Classroom Climate workshop on "Confronting Uncomfortable Conversations in the Classroom: The Pedagogy of Emotion."

By Emi Sasagawa on June 1, 2017
On May 2 the Centre for Teaching, Learning and Technology held a panel discussion on integrating Indigenous content and perspectives in the classroom. The event brought together five settler scholars from departments across the university to share their experiences and to discuss, "When will we be ready?"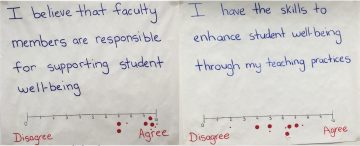 By Diana Jung and Janey Lew on May 3, 2017
On February 8, 2017 Patty Hambler, Director of Student Wellbeing Promotions and Michael Lee, Senior Instructor in the Department of Occupational Science and Occupational Therapy co-faciliated a Classroom Climate workshop titled "Supporting the Student as a Whole Person: Exploring Connections Between Instructional Practices, Learning, and Wellbeing."

By Amy Perreault and Janey Lew on November 7, 2016
During the session on "Bridging the Knowledge Gap: Indigenous Foundations," Kathryn and David outlined their approaches to engaging students in conversations about Indigenous topics in the various courses they've taught here at UBC.

By Janey Lew on October 21, 2016
We've rescheduled one of our sessions, "Addressing Campus Climate in Your Classroom" for November 3, 10AM-12PM, and hope this change in time will encourage more of you to register and attend this important workshop!

By Janey Lew on October 7, 2016
It was a treat to have a full house for a demonstration of the c̓əsnaʔəm educator's toolkit by members of the Musqueam Language and Culture Department: elder Larry Grant, Jill Campbell, and Vanessa Campbell.

By Emi Sasagawa on September 26, 2016
What goes into a territory/land acknowledgement and what are the things we can each think about to engage responsibly in this practice?

By Wendy Chan on March 18, 2016
Musqueam community member and artist Morgan Guerin shared and discussed Musqueam culture, history, and his contribution to the exhibit cəsnaʔəm, the city before the city.

By Janey Lew on January 8, 2016
Aboriginal Initiatives Strategist, Amy Perreault, and Classroom Climate and Educational Resource Developer, Hanae Tsukada recently returned from San Fransisco, California, where they shared their work on Classroom Climate at the Professional and Organizational Development (POD) Network in Higher Education conference, November 4-8, 2015. POD is a forty-year old, globally recognized professional organization serving faculty developers in […]

By Janey Lew on December 4, 2015
Taking Classroom Climate Online CTLT Winter Institute Wednesday, December 9, 9:30 am – 11:30 am Lillooet Room 301, Irving K. Barber Learning Centre, 1961 East Mall Register now for Taking Classroom Climate Online, a faculty roundtable and discussion on how to address issues of identity in online and blended learning environments, considerations of place and location when […]